The most important day that any woman dreams of is her wedding day. And it is also the day when every eye is going to be on her which puts a burden on how she looks.
But doesn't every girl deserve perfect flawless skin on her big day ??
The burden is heavy when you have skin issues like acne, tan or sensitive skin. Multi-Million dollar skincare brands thrive in the market blowing up this insecure feeling of women and targeting their wish to look best on their big day. Many to-be brides visit expensive parlours, go through extensive treatments and spend an exorbitant amount of money to get quick results in the obsession to look good in a very short span, which causes only more damage.
But most of the time in the loud noises of chemical and harmful skin care products advertisements and marketing strategies, we miss the fact that it doesn't cost so much energy and money to have a skincare bridal glow. We give our undivided attention to them and forget our roots which supplied natural and organic skincare products to the whole world for hundreds of years.
This blog vividly explains the best home-based skincare routine for brides that will enhance the glow in your skin healthily as well as grow the happiness in your heart that will be visible on your face.
The modern-day Pre-wedding skincare routine is already embedded in Indian culture as Haldi and Nalungu with different names in different regions of India. It is a ritual wherein the bride and the groom get a bodypack applied to achieve glowing skin for the wedding. It shows how thoughtful our culture has been when it comes to the Indian bridal skincare routine.
If you are a bride-to-be and on a shopping spree to pick up the best outfit and hunt the best makeup artist to doll you up on your big day, then you should also have started your bridal skincare routine by now.
It is a fact that most brides do not take the bridal skincare routine as seriously as their makeup or outfit. But never forget that your inner happiness and the natural glow on your skin will always be the showstopper on your wedding.
Here are the top 5 home based skincare routines for brides:
1.Sandalwood pack:
Sandalwood, being antibacterial, is known to keep acne and other bacterial skincare problems at bay. In case you have oily skin or acne-prone skin, then such home remedies for glowing skin are a perfect way to enhance the beauty and eliminate impurities at the same time. The usage of honey in this pack ensures that your skin doesn't dry out and leaves the skin feeling supple, once you wash the pack off.

Ingredients Needed

:
1tsp powdered Sandalwood
1tsp Honey
Method:
Mix both the ingredients in a wooden or plastic bowl and form a thin paste.
Apply the face pack and leave it on for 20-25 minutes.
Rinse gently with room temperature water and pat dry your face.
Apply any gel-based moisturizer to seal the deal.
Note: Do a patch test before applying to the face. If you skin is already dry and the makes it more dry then avoid that particular pack.
2.Tomato bleach:
Tomato is known to be a natural skin bleacher, making it a perfect ingredient to achieve naturally glowing skin and remove the tan as well. It is also a great astringent and helps in reducing open pores and rejuvenating dull skin cells. Lemon juice is full of Vitamin C which is known to boost collagen in the skin and provide antioxidant benefits to the dull skin. These types of home remedies for glowing skin can be used twice a week for a few weeks to witness visible, natural and long-lasting results on the facial skin.

Ingredients Needed

:
2-3 tbsp Tomato puree
 2 tbsp of lemon juice
Method:
In a mixing bowl, pour the tomato puree and with the help of a spoon check for any lumps or uncrushed particles of the tomato.
Then add lemon juice and mix the ingredients well. With the help of a face-mask brush, apply the face pack all over your face and neck and leave it to dry for 20 minutes.
Wash the pack with cold water and spray some distilled water for instant moisturization of the open pores.
3. Marigold Bliss for Bridal skin whitening at home:
Marigold is quite a common ingredient used by many skincare brands in their products. Upon regular usage, you will be able to keep your skin soft, smooth, and acne-free. Combined with the cooling benefits of curd, the de-tan benefits of sandalwood, and the glowing elements of rose water, you can expect some great results in one application only.
Ingredients Needed:
Marigold,
2 tbsp of sandalwood powder,
1/2 tsp of Turmeric powder,
2-3 tbsp of rose water
Method:
With the help of a mortar and pestle, crush the marigold petals into a paste. Then add sandalwood powder and turmeric powder to the paste and mix well.
Start adding rose water to the paste slowly until you achieve the right consistency of the pack. Apply this pack to your face and neck and wait till it dries out completely. Then with the help of a wet towel, remove the pack and immediately apply a super hydrating moisturizer to close the pores.
4. Body Glow:
Oil: After having a bath, regularly moisturize your skin with oil. If putting oil is not possible,
then add two-three drops of oil ( virgin coconut oil, Olive oil) and have a neck-down bucket bath with it. Oil not only moisturizes the skin but also forms a protective layer preventing insect bites, rashes, and skin issues. Using oil daily will also reduce tan.
5. Turmeric And Milk Pack: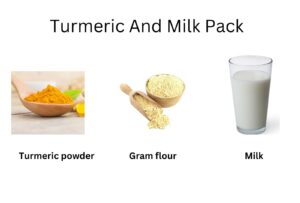 Ingredients Needed: Turmeric powder, Gram flour, milk
Method:
Make a paste by mixing equal parts of Turmeric Powder, Gram Flour with a little water, or Milk.
Apply it evenly on your skin and leave it on until it dries.
Wash with Lukewarm water and moisturize.
Natural skin glow is not just what we apply to our face, it's a lifestyle and way of living.
These are some tips follow a healthy lifestyle
1. Start following a healthy diet
2. Keep yourself super hydrated
3. Get plenty of good quality sleep
4. Start Practicing Yoga
5. Manage stress
6. Double cleanse at night
7. Cut Back The Caffeine And Alcohol
We understand that your hands would be already full with so much to do for your big day. Also, you would be obsessed to find a solution for a variety of our problems especially when it comes to your looks. So we always say go back to our roots and do what our grandma and great grandma did.
To save your time on your skincare routine and save your money from expensive bridal skincare treatments with false promises, We at Yeka have found the perfect grandma's recipe to simplify your pre bridal skincare routine at home.
" I wish I have that poreless, smooth, dewy skin. ", Say it Short.. Glass Skin.. Right? If this is the wish you had been longing for, then here's an interesting challenge for you to take up with YEKA KUMKUMADI SERUM.
The Night Serum has made 1000s of Women Go Crazy with its Results.
Yes, the Korean Skin Care Routine has taken up with an authentic Indian Ayurvedic Product !!
YEKA KUMKUMADI SERUM – A Special Curation of the traditional Kumkumadi Oil And yes this has been the choice of 10000+ other Lovely Customers.
Yeka Golden Glow oil is 100 % natural and affordable. This 8-in-1 miraculous oil keeps your skincare routine simple and effective. The skin glows in a week. The natural glow is deep and permanent.
Yeka Golden Glow oil can be used as a Makeup Remover, Primer, Lip balm, Moisturizer, Eye Cream, Foot Cream, Intimate Care Oil, Tan Removal Oil, and much more.
You can join the tribe of 15000 + customers whose skin has magically transformed effortlessly in a very short span.
Also remember, skin Minimalism is the new trend today and it's a beauty trend that's here to stay! The most popular movie stars who we want to imitate on our big day go minimal on their wedding days. Alia Bhatt glowed like a light on her wedding in her natural skin and pristine smile. Just follow the secret Indian minimal skincare routines shared in the blog and make your big day special by being a stunner in your original skin!