Shallots are one of the most preferred cooking ingredients to add amazing taste to your food. But here are known facts of shallots in beauty care routine.
Benefits:
1) Onions are a rich source of vitamins, minerals, antioxidants and certain other vital nutrients like vitamin A, vitamin C and vitamin E that are much important to keep your skin healthy. Also these nutrients play a vital role in giving beautiful hair.
2) Quercetin and sulphur derivatives help to keep skin's ageing effect at bay and helps in promoting hair growth.
How to extract onion juice: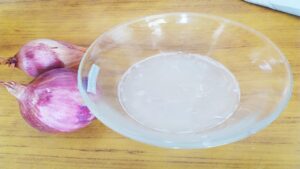 Take 15 to 20 shallots and grind it without adding water. Now filter it and extract the juice. You may refrigerate this juice.
Hair care:
Mix coconut oil and shallot juice. Apply this on scalp and hair. Leave it for30 minutes and wash off with mild shampoo.
Repeat it weekly twice best results.
YEKA PRODUCT WHICH TRIGGERS HAIR GROWTH LIKE FOREST
So you're looking For Strong, Healthy Hair? But you really don't know what more to use to Stop That Hair fall or Control the Dandruff..
Maybe you're feeling lost, confused, time-poor, or just stressed about the whole heckin' thing.
If you're nodding your head and feeling this way, I want to let you know there is a simple answer and solution to your needs.
A way to get away from Scanty, Frizzy, Unhealthy Hair to Long, Strong & Healthy Hair?????
And what's that solution? It is our YEKA MORINGA HAIR OIL.
This Oil is perfect for you if you have any one of the below concerns:
HAIR RE-GROWTH:
Yes! You really don't need a painful Hair Transplant or the harsh minoxidil Treatments. You just need this Moringa Magic with a little patience and a Healthy Diet! And here is a genuine transformation.