You are here because you had a really hard and very tiring and hectic week or probably you were all too busy and occupied for a long that you have neglected your skincare. We know the feeling only too well. So much planning, and so many things to do, and the one thing we often take it easy or tend to skip is 'ourselves.' But now your skin needs you and you need time for yourself to get the energy and josh to enter yet another herculean week. This blog is all about how to pamper your skin and get in the best mental and physical state so that you can get out and be the best version of yourself. Did you know that skincare is one of the most efficient self-care methods that not only rejuvenates your skin but also your mind and body? So, get prepared to pamper your skin with us and in the end, you will be fully recharged
First things first
Yes. Before you even start your skincare, do this most important step. Set the mood right. First, take your phone and keep it in DND mode. Believe us you don't want to have disturbing calls while you are in the middle of this rejuvenating process. Switch on your favorite music or podcast. Bring the room to the ideal temperature and make the lighting just perfect for your liking. And now, you are ready to soak into the realms of skin pampering.
Oil
Pick your favorite natural oil for both hair and skin. Yeka Golden Glow oil for skin and Yeka Moringa Magic Hair oil are the best natural oils for skin and hair respectively. They have in them the herbal power that is needed to remove toxins and stress from your skin and hair. Soak in this natural aroma for half an hour while you enjoy the music.
To Buy Yeka Golden Glow oil = Click here
To Buy Yeka Moringa Magic Hair oil = Click here
Start with a long warm bath
Instead of the usual hurried shower, get yourself a nice relaxing bath this weekend. Add essence and aroma oils to help relax your senses. Soak yourself in the water until you feel completely relaxed and refreshed. Let the water shower on you until it takes away all your stress and tiredness. Enjoy this comforting bath for s long as you need.
Scrub
Once you are done working. You are ready for the next step – Scrub. This step helps you to remove all the accumulated dead cells,  and debris and also helps to get rid of blocked bores. Use a separate. scrub for face and body. Choose an all-natural scrub to pamper your skin. Make sure to use the scrub in a circular motion throughout. Once you are done wash it down with water.  And now you are ready for the next step.
Cleanse
Cleanse your skin with a nourishing body wash or soap. Give a gentle massage to your skin while you are at it. Cleanse thoroughly and rinse off. This step will make your skin refreshed and clean. Take a little extra time and take care of all the creases and give your back a little extra time today.
Shampoo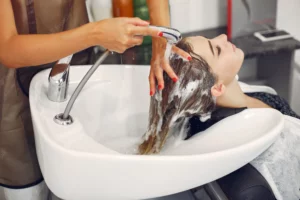 Shampoo your hair with a natural shampoo to give your hair a boost of nutrients and revive it from the damage from pollution and stress. Remember to air dry your hair to prevent the frictional damage and damage caused by heat while using a blower. Remember there is no hurry today
Mask
Once you are done with the shower, dry yourself up by gently patting your skin, you don't have to rub it hard as this might cause damage to the skin. Drape yourself with a bathing robe. If you love scented candles light them up and find a comfy spot to sit. For the next half an hour you will be sitting in this spot while your skin gets rejuvenated. Apply a nourishing face pack to your skin and let your senses soak in the aroma and music. Wash off the mask after half an hour.
Hydration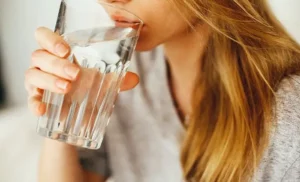 By this time you will already start to feel fresh and revived. Your skin will be visibly glowing from all the pampering.  Your senses have relaxed and you feel good. This step will help your skin to get a boost of hydration. Did you know that hydration is the key to Korean glassy skin? They layer up hydrating serum, oils, moisturizers, and more to get clear glossy skin. To know more about this read here. You can complete the pampering routine by applying your regular day serum and Moisturiser.  This will seal your beauty and rejuvenate your skin.
Ah! We see you already getting geared up for the weekend. Always try to make time for yourself amidst your busy schedule to look and feel good both on the inside and outside.