Description
What Does Combo Include?
                     
Hair Oil
A herbal oil that is propelled by the Moringa powder. This vitamin rich Moringa houses more than 27 vital elements (Small onion, hibiscus petals, fenugreek, curry leaves, neem, carom seeds, poduthalai, camphor, Black cumin seeds, Lotus petals, jatamansi, amla, henna leaves, rose petals, liquorice, kadukai, ashwagandha, virgin coconut oil & 6 organic greens)
that cares for your hair. It is rich in antioxidants and has the ability to nourish the hour and give it a healthy shine. It strengthens the hair from the roots and makes it strong from within and even helps hair growth in the bald areas. It works well to smoothen the frizzy hair, calm itchy scalp, and ward off dandruff and lice. Use it once and you will never go for another oil
Hair Wash Powder
True to the name, this hair wash powder is a culmination of all-natural (Arapu, Soapnut, Lemon Peel, Karisilangani, Avarampoo, and other herbs) that have beneficial effects on the hair. It locks in moisture and prevents the hair from drying. Thus hair becomes naturally soft and smooth. It revives the dull hair making it lively and bouncy. It also adds volume to your hair and you have a hair that is thick and strong. It also prevents and reverses premature greying of hair. This will be your perfect hair wash partner.
Hair Conditioner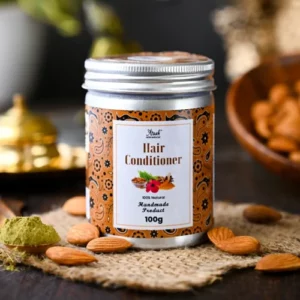 A nice conditioner is what a nice hair needs. For extremely dry hair conditioning becomes the vital step to lock in extra moisture in the hair. And what is best than the Hair wash conditioner that is made with natural ingredients (Hibiscus leaf powder, Almond, Flaxseed, Moringa, Bringraj, Frog fruit, Fenugreek) that love the hair. Our Hair wash conditioner is just the one that your hair needs. It goes the extra mile to protect your hair from damage, reverses hair damage, and makes your hair perfect for you.