3 SKIN TYPE-BASED FOOLPROOF DOUBLE CLEANSING
We all aspire to flawless healthy glowing skin. In order to achieve that, we religiously follow various night routines, rituals, and double cleansing methods to cleanse our skin. When we women strive to be on par with men in careers and all other aspects of life, it becomes inevitable for us to expose our skin to makeup, harsh chemicals, SPF, pollutants, etc. All these factors put our skin at risk of various skin damages like pores getting clogged, acne, or sometimes serious issues like dermatitis, eczema, and many more.
Above all, can you imagine waking up to a lifeless dull face and damaged skin?
Can you imagine all the dirt and impurities piling up on your skin and for days not knowing the way out?
The flaws in our faces ultimately reflect on our confidence and impact the goals that we have set to achieve in our career and life. We lose our confidence, feel vulnerable to expose our faces, and desperate to fix the problem. Some of us are so obsessed with the Korean glass skin that even a repairable problem eats our brains, drains our energy, and keeps us off any productive tasks on a daily basis. Moreover we end up spending a lot of money on treatments. But even if you are not exposed to any of these, you may still need double cleansing if your skin type is oily.
What if we tell you, you don't have to spend a lot of money and lose your confidence instead spend some relaxed time at home to get that flawless glowing skin simply by following double cleansing rituals.
Japan and Korea are the founding fathers of double cleansing.
According to reports, Japanese geishas(art person) used cleansing oils followed by a foamy cleanser to remove their white makeup.
The technique also became popular as part of the Korean 10-step skincare regime, which has migrated into Western culture and other part of the world in recent years.
What is double cleansing?
Double cleansing is a method of cleansing your face twice:
First, with an oil-based cleanser and again with a water-based cleanser. It can help remove stubborn, pore-clogging, and acne-causing impurities that can remain on the skin even after washing your face once.

BENEFITS OF DOUBLE CLEANSING:
Generally, we will not have that compulsion to follow a ritual every day except the benefits weigh high according to our standards. This rule applies not just to skincare but to all that we aspire to do on a daily basis. We should have our personal 'WHY'(Why do I have to do this?) for doing something, otherwise, we can't be consistent in doing that activity. Our personal 'why' will become so compulsive if we come to know the benefits of double cleansing.
An oil-based cleanser is designed to remove oil-based impurities, including makeup, sunscreen, sebum, and pollution.
By getting rid of this stuff first, the second water-based cleanser can really work its way into the skin, removing the likes of grime and sweat.
Not only is a double cleanser meant to give a more thorough cleanse, but it can also revitalize dull skin and allow other skin care products to penetrate more effectively.
Double cleansing may be a two-step technique that only adds a few minutes to your usual regime, but as with most things in skin care, it's not a one-routine-fits-all. Considering every skin type and taking into account your specific skin concerns, choosing the right double-cleansing duo is key in making sure you get the most out of your routine.
OILY SKIN
     
Cleanser 1:

 
Lathering your face with more oil when you're already battling with slick and shine sounds like a recipe for greasy disaster, but an oil-based cleanser can help rid your skin of impurities and sebum. Oil attracts oil, so this will help to remove makeup, sweat and any other oil that has accumulated on your skin. If you're not a fan of oils, do  micellar water cleansing  instead. Its tiny oil molecules called micelles can effectively draw out pore-clogging dirt and excess oil.
Cleanser 2:
Follow it up with a gel or clay face cleanser. These can help balance moisture, prevent inflammation and regulate sebum production. The key is to remove dirt and oil while also helping to balance and hydrate skin.

DRY SKIN
Cleanser 1:
You run a higher risk of over-washing when you have dry skin, so doubling up on your cleansing routine can sometimes do more harm than good if you're using products that are not formulated for your skin type. For best results, use balms infused with Shea butter and sunflower, coconut or jojoba oils to boost hydration
Cleanser 2: 
Parched skin also makes you more prone to developing premature signs of aging, so it helps to choose products with anti-aging ingredients like vitamin C. Post-rinse, apply your night moisturizer or go-to face oil on slightly damp skin to help seal in moisture.
SENSITIVE OR ACNE-PRONE SKIN

Cleanser 1: 
When you have sensitive skin, you know the importance of keeping your skin care regimen simple and fuss-free. At first glance, double cleansing may seem counterproductive and a chance to only up the chances of irritation. For sensitive-skin types, reach for a gentle cleansing oil when removing your makeup. To keep your skin from breaking out and calm irritation, look for antioxidants and anti-inflammatory ingredients like vitamin E, aloe, green tea and tea tree oil.
Cleanser 2: 
A face cleanser with exfoliating agents brighten skin, clear blemishes and unclog pores.
Some of you may ask, "I don't wear makeup. Why do I have to double cleanse my face?"
The answer is absolutely yes. Because even though we protect our skin from chemicals in makeup products by skipping makeup, we cannot escape from pollutants and dirt that settles on our face the moment we step out of our home. Apart from these, we have to get rid the oily sebum that is secreted by our own body.  Normal Water based cleansing cannot properly remove these impurities, so we should make sure to use an oil cleanser to start off  our routine. All these are valid reasons to double cleanse our face on a daily basis.
If I say I don't litter my home, so I will not clean it every day, Will that make sense? Some of us proudly say I mop my home every day. Double cleansing our face every day is as essential as that. And even if we don't go out, don't use make up, have dry skin, not exposed to SPF, double cleansing is a mandatory ritual that can we give magical results.
There are varieties of oils used for the first step of double cleansing among which coconut oil cleansing is the most common and easily available both for removing makeup and normal cleansing.
However, if  I tell you we have made a divine mix of  fresh roses with  pristine Organic Virgin Coconut Oil extracted from fresh milk of the coconut, not exposed to any chemicals to get the magical and the most authentic cleansing oil of our generation?
Yes, Yeka Golden Glow oil truly does magic to your face when used as a cleansing oil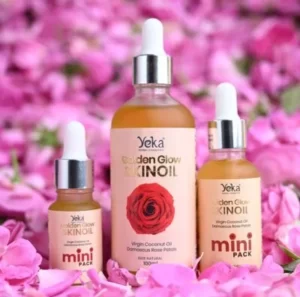 How do we double cleanse using Yeka Golden Glow oil?
Follow the steps below:
Cleanser 1: Apply a Few Drops of the Yeka Golden Glow Oil on your face, neck, and other exposed body parts. Give a gentle massage.
Cleanser 2:Take a cotton cloth, dip it in warm water and wipe your Face, Neck & Body. This completely Cleanses Your Skin From Dirt and gives you a clean, fresh look.
Yeka Golden Glow oil cleansing is way more advanced and natural level of cleansing, a perfect product for  the famous Korean Skin Care Routine.
Yeka Golden Glow oil is a multipurpose products that has more than one benefit:
1.The oil is also used as the makeup remover in the first step of cleansing if you are wearing makeup.
2.It can be used as a moisturizer if you have a dry skin to leave it on your face over night.
3.Lightens your skin.
4.And literally removes all the scars, marks and blemishes on your skin on regular use. The one- stop solution for all skin care needs.
You can join the tribe of 15000 + customers whose skin has magically transformed effortlessly in a very short span.
In the fast paced world today where fast foods and instant online deliveries of anything you name are becoming a trend in modern era, an absolutely natural way of taking care of your skin in no time and spending less money with the most authentic product Yeka Golden Glow oil does make real sense